Extracted from the UNITED FLOWER GROWERS AUCTION NEWS on June 25, 2000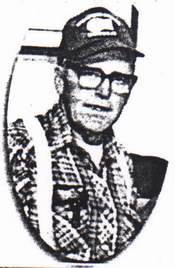 After moving to British Columbia from Ontario in 1948, Paul and twin brother Charlie established WATERS BROTHERS ELECTRIC LTD. and incorporated in 1951. Paul was recognized by his peers as a leader and expert in industrial electrical controls and high voltage work in the electrical field.

Paul often was called upon as a consultant to many businesses that valued his expertise and extensive electrical knowledge. Very much in demand professionally, the list of companies that Waters Brothers Electric Ltd. serves reads like "who's who" of heavy industrial manufacturing.

But despite his intense commitment to his business and to his customers, Paul managed to balance that with dedication and love to his family who draws strength from Paul's trademark display. Paul often spoke with pride about bringing all three of his sons into the electrical contracting business, carrying on in the traditions established by Waters Brothers Electric Ltd. successfully.

His love of children, and his eagerness to provide leadership and guidance to a great many of them, brought Paul to coaching and managing hockey and baseball.

Affectionatley referred as "Grumpy" by the many kids he coached, his demeanor sometimes gave the impression that he was, but nothing could be further from the truth.

Paul Waters and United Flower Growers first crossed path in 1976 when Roseberry Avenue property in Burnaby, B.C. was purchased by UFG, and Waters Brothers Electric Ltd. was renting the garage of the existing building, then known as the "Apple Shack". Over the following years, and to this day, Waters Brothers Electric Ltd. has become UFG's primary electrical contractor. Often called upon to "fix" electrical problems at the most odd times of the day or night. Paul and his sons have provided UFG with consistent and prompt service. Without exaggeration it can be said that Paul's ingenuity and resourcefulness can take credit for UFG being able to stage some auctions that were in doubt because of electrical problems.

On a personal note, I can say with pride that having known and having worked with Paul for nearly twenty-five years, aside from his profesional commitment to the companyI work for, we grew to be friends who shared a laugh or two. Over the years, Paul, and later his sons Mike and Tom became part of the UFG family. As it usually is with family, we could depend on each other then, and without doubt, we will depend upon his sons in the future as they carry on in the footsteps of their late father.